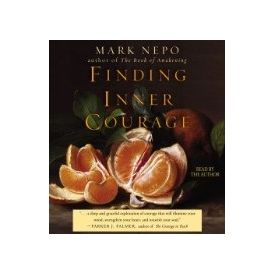 Finding Inner Courage[ Audiobook, Unabridged] [ Audio CD] Mark Nepo (Author, Reader)
Finding Inner Courage[ Audiobook, Unabridged] [ Audio CD] Mark Nepo (Author, Reader)
INR
2305
In Stock
1075.0
In Stock
Ships in 3 - 5 Days
Warranty : 0
Description
Finding Inner Courage [Audiobook, Unabridged][Audio CD]
Mark Nepo (Author, Reader)

Finding Inner Courage
[Audiobook, Unabridged]
[Audio CD]
Mark Nepo (Author, Reader)
Book Description
FROM THE BESTSELLING AUTHOR OF
THE BOOK OF AWAKENING
Mark Nepo is a beloved teacher, poet, and storyteller, and the author of the bestseller The Book of Awakening. In his latest book he invites us to live from our inner core in ways small and large, every day. That is all we can do in life, and all we need for our lives to bear witness and contribute, to make the world a better place. To listen to the stories in this book is to find our own place of courage and peace.
Product Details
· Audio CD
· Publisher: Simon & Schuster Audio; Unabridged edition
· Language: English
· ISBN-10: 1442342110
· ISBN-13: 978-1442342118
· Product Dimensions: 2.5 x 13 x 14 cms
· Shipping Weight: 340 gms
Biography
Mark Nepo is a poet and philosopher who has taught in the fields of poetry and spirituality for over thirty years. He has published twelve books and recorded five CDs. Forthcoming work includes a new book of teaching stories, As Far As the Heart Can See, (HCI Books, Fall 2011), Finding Inner Courage (Red Wheel-Conari, Spring 2011, originally published as Facing the Lion, Being the Lion, 2007), and audio books of The Book of Awakening and Finding Inner Courage (CD, Simon & Schuster, Spring 2011). His most recent book of poetry is Surviving Has Made Me Crazy (CavanKerry Press, 2007).
In 2010, Mark sat down for an interview with Oprah Winfrey as part of her Soul Series on the satellite radio network, SIRIUS XM Radio. Of his books, The Exquisite Risk (Harmony Books) was cited by Spirituality & Health Magazine as one of the Best Spiritual Books of 2005, calling it "one of the best books we've ever read on what it takes to live an authentic life." The Book of Awakening was a finalist for the 2000 Books for a Better Life Award and was cited by Spirituality & Health Magazine as one of the Best Spiritual Books of 2000. Mark's collected essays appear in Unlearning Back to God: Essays on Inwardness (Khaniqahi Nimatullahi Publications, 2006). He is also the editor of Deepening the American Dream: Reflections on the Inner Life and Spirit of Democracy (Jossey-Bass, 2005). Other books of poetry include Suite for the Living (2004), Inhabiting Wonder (2004), Acre of Light (1994, also available as an audiotape from Parabola under the title Inside the Miracle, 1996), Fire Without Witness (1988), and God, the Maker of the Bed, and the Painter (1988).
His work has been translated into French, Portuguese, Japanese, and Danish. In leading spiritual retreats, in working with healing and medical communities, and in his teaching as a poet, Mark's work is widely accessible and used by many. He continues to offer readings, lectures, and retreats. Please visit Mark at: www.MarkNepo.com and www.threeintentions.com.
From the Inside Flap
A work from the heart that calls us to look within and grow. --This text refers to an out of print or unavailable edition of this title.
About the Author
Mark Nepo is a poet, philosopher, and author of thirteen books, including the New York Times bestseller, The Book of Awakening. Mark has appeared with Oprah Winfrey on her Super Soul Sunday program (OWN TV) and has been interviewed by Robin Roberts on Good Morning America. He lives in southwest Michigan. Please visit Mark at: MarkNepo.com and http://ThreeIntentions.com.
Look for Similar Items by Category