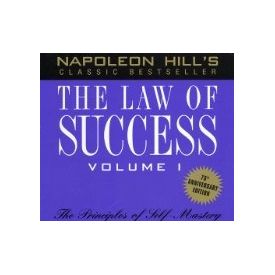 The Law of Success, Volume I: Principles of Self-Mastery[ Audiobook, CD, Unabridged] [ Audio CD] Napoleon Hill (Author) , Arthur Morey (Reader)
The Law of Success, Volume I: Principles of Self-Mastery[ Audiobook, CD, Unabridged] [ Audio CD] Napoleon Hill (Author) , Arthur Morey (Reader)
INR
2045
In Stock
1450.0
In Stock
Ships in 3 - 5 Days
Warranty : 0
Description
The Law of Success, Volume I: Principles of Self-Mastery [Audiobook, CD, Unabridged][Audio CD]
Napoleon Hill (Author), Arthur Morey (Reader)
Book Description
A scheduled three-hour interview between a young Napoleon Hill and Andrew Carnegie strung out to three days. During that time, Carnegie revealed his secrets of success and then offered young Hill the task of organizing and systematizing the world's first philosophy of individual achievement based on the principles. From that moment on, Napoleon Hill dedicated his life to spreading the philosophy of achievement and the principles of success worldwide for the benefit of all people.
The Principles of Self-Mastery represents an in-depth discussion of Napoleon Hill's first four principles of personal achievement-the foundation upon which personal success is built.
The Principles of Self-Mastery is the first of four volumes in this updated and revised edition of The Laws of Success, which was originally published as an eight-volume set.
Product Details
· Audio CD
· Publisher: High Roads Media; Unabridged edition
· Language: English
· ISBN-10: 1932429069
· ISBN-13: 978-1932429060
· Product Dimensions: 14 x 13 x 5 cms
· Shipping Weight: 340 gms
About the Author
Napoleon Hill was born in 1883 in a one-room cabin on the Pound River in Wise County, Virginia. From these humble roots he rose to distinction as the author of the motivational classics The Laws of Success and Think and Grow Rich. Hill passed away in November 1970 after a long and successful career writing, teaching, and lecturing about the principles of success. His lifework continues under the direction of the Napoleon Hill Foundation, whose goal and mission is to assist people throughout the world to reach their highest level of personal achievement and self-fulfillment.
Look for Similar Items by Category