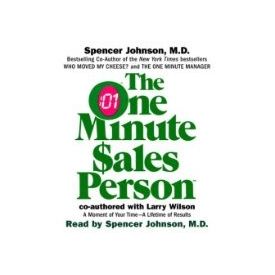 The One Minute Salesperson[ Abridged, Audiobook] [ Audio CD] Larry Wilson (Author) , Spencer Johnson M. D. (Author, Reader)
The One Minute Salesperson[ Abridged, Audiobook] [ Audio CD] Larry Wilson (Author) , Spencer Johnson M. D. (Author, Reader)
INR
2592
In Stock
630.0
In Stock
Ships in 3 - 5 Days
Warranty : 0
Description
The One Minute Salesperson [Abridged, Audiobook][Audio CD]
Larry Wilson (Author), Spencer Johnson M.D. (Author, Reader)

The One Minute Salesperson
[Abridged, Audiobook]
[Audio CD]
Larry Wilson (Author), Spencer Johnson M.D. (Author, Reader)
Book Description
From the bestselling co-author of Who Moved My Cheese? . . .

Spencer Johnson presents us with hints and tips for becoming more effective and confident in sales. With concise, practical advice in a dynamic presentation, the lessons learned from The One Minute Salesperson are invaluable.
Product Details
· Audio CD
· Publisher: RH Audio Assets; Abridged edition
· Language: English
· ISBN-10: 0739307681
· ISBN-13: 978-0739307687
· Product Dimensions: 13 x 1.5 x 16 cms
· Shipping Weight: 68 gms
Biography
Spencer Johnson, M.D., is one of the world's most respected thinkers and beloved authors. Dr. Johnson earned a B.A. degree in Psychology from the University of Southern California, an M.D. degree from the Royal College of Surgeons, and medical clerkships at The Mayo Clinic and Harvard Medical School. More than forty-six million copies of Spencer Johnson's books are in print worldwide in more than forty-seven languages.
Spencer Johnson, M.D., is the author of several New York Times bestsellers, including The One Minute Manager, all in the entertaining style of a parable that contains useful information readers can use in their own lives.


Look for Similar Items by Category