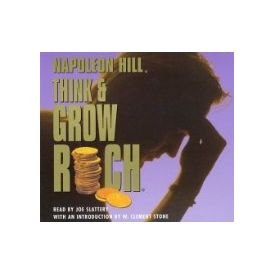 Think and Grow Rich[ Audiobook, CD, Unabridged] [ Audio CD] Napoleon Hill (Author) , Joe Slattery (Reader)
Think and Grow Rich[ Audiobook, CD, Unabridged] [ Audio CD] Napoleon Hill (Author) , Joe Slattery (Reader)
INR
5118
In Stock
2610.0
In Stock
Ships in 3 - 5 Days
Warranty : 0
Description
Think and Grow Rich [Audiobook, CD, Unabridged][Audio CD]
Napoleon Hill (Author), Joe Slattery (Reader)

Think and Grow Rich
[Audiobook, CD, Unabridged]
[Audio CD]
Napoleon Hill (Author), Joe Slattery (Reader)
Book Description
From world-renowned motivational author Napoleon Hill comes the definitive unabridged version of his classic work that has inspired millions, Think and Grow Rich.
Anything your mind can conceive and believe you can achieve. That is the philosophy of Napoleon Hill, author of the world's #1 motivational book, Think and Grow Rich. Inspired by the lessons he learned while a protégé of Andrew Carnegie, Napoleon Hill gives you the money-making secrets that earned Carnegie, and many of the world's other most prominent people, unprecedented riches. Think and Grow Rich tells you what to do and how to do it. Apply Hill's basic techniques to your life and you too can master the secret of enduring success.
Success is not an accident, it's a habit. Think and Grow Rich is where that habit begins. Throughout this inspirational masterpiece, which has influenced men and women on every continent, Hill gives examples and detailed analysis of how hundreds of exceedingly wealthy people earned and maintained their fortunes. It has sold millions of copies by laying down a blueprint for a life of prosperity, and helping people become the winners they've always wanted to be. Napoleon Hill's plan will inspire you, motivate you, and enable you to make your dreams come true!
Product Details
· Audio CD
· Publisher: High Roads Media; Unabridged edition
· Language: English
· ISBN-10: 1932429131
· ISBN-13: 978-1932429138
· Product Dimensions: 15 x 13 x 5 cms
· Shipping Weight: 600 gms
Biography
Napoleon Hill was born in 1883 in Wise County, Virginia. He began his writing career at age 13 as a "mountain reporter" for small town newspapers and went on to become America's most beloved motivational author. His work stands as a monument to individual achievement and is the cornerstone of modern motivation. His most famous work, Think and Grow Rich, is one of the best-selling books of all time. Hill established the Foundation as a nonprofit educational institution whose mission is to perpetuate his philosophy of leadership, self-motivation, and individual achievement.
www.naphill.org
From the Inside Flap
Here are money-making secets that can change your life. Inspired by Andrew Carnegie's magic formula for success, this book will teach you the secrets that will bring you a fortune. It will show you not only what to do but how to do it. Once you learn and apply the simple, basic techniques revealed here, you will have mastered the secret of true and lasting success. And you may have whatever you want in life.
From the Back Cover
The Greatest Motivational Book of All Time
Think and Grow Rich reveals the money-making secrets of hundreds of America's most affluent people. By thinking like them, you can become like them. Napoleon Hill's thirteen step programme will set you on the path to wealth and success.
This powerful 1937 classic, with present-day analysis from self-development authority Tom Butler-Bowdon, will continue to be read through the decades of economic boom and bust, proving that the magic formula for making money never changes.
About the Author
Born into poverty in 1883, Napoleon Hill rose to become one of the world's most distinguished and respected authors. He moved from newspaper reporter to law student to working for Andrew Carnegie, and became a confidant and advisor to businessmen and presidents. Hill has counted among his many associates Franklin D. Roosevelt, Mahatma Gandhi, Thomas Edison, Henry Ford, and hundreds of other world leaders.
Look for Similar Items by Category