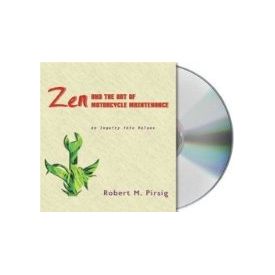 Zen and the Art of Motorcycle Maintenance: An Inquiry Into Values[ Abridged, Audiobook, CD] [ Audio CD] Robert M. Pirsig (Author) , Michael Kramer (Reader)
Zen and the Art of Motorcycle Maintenance: An Inquiry Into Values[ Abridged, Audiobook, CD] [ Audio CD] Robert M. Pirsig (Author) , Michael Kramer (Reader)
INR
2059
In Stock
1300.0
In Stock
Ships in 3 - 5 Days
Warranty : 0
Description
Zen and the Art of Motorcycle Maintenance: An Inquiry Into Values [Abridged, Audiobook, CD][Audio CD]
Zen and the Art of Motorcycle Maintenance: An Inquiry Into Values
[Abridged, Audiobook, CD]
[Audio CD]
Robert M. Pirsig (Author), Michael Kramer (Reader)
Book Description
This lyrical, evocative, thought-provoking journal of a man's quest for truth -- and for himself -- has touched and changed an entire generation. At its heart, the story is all too simple: a man and his son take a lengthy motorcycle trip through America. But this is not a simple trip at all, for around every corner, through mountain and desert, wind and rain, and searing heat and biting cold, their pilgrimage leads them to new vistas of self-discovery and renewal.
Zen and the Art of Motorcycle Maintenance is an elemental work that had helped to shape and define the past twenty-five years of American culture. This special audio edition presents this adventure in an exciting new way -- for the millions who have already taken this journey and want to travel these roads again, and for the many more who will discover for the first time the wonders and challenges of a journey that will change the way they think and feel about their lives
Product Details
· Audio CD
· Publisher: Macmillan Audio; Abridged edition
· Language: English
· ISBN-10: 155927557X
· ISBN-13: 978-1559275576
· Product Dimensions: 14x 13 x 2.5 cms
· Shipping Weight: 180 gms
Biography
Robert M. Pirsig was born in 1928 in Minneapolis, Minnesota. He holds degrees in chemistry, philosophy, and journalism and also studied Oriental philosophy at Benares Hindu University in India. He is the author of Zen and the Art of Motorcycle Maintenance and Lila.
From the Inside Flap
The extraordinary story of a man's quest for truth. It will change the way you think and feel about your life.
"The cycle you're working on is a cycle called 'yourself.'"
"The study of the art of motorcycle maintainence is really a study of the art of rationality itself. Working on a motorcycle, working well, caring, is to become part of a process, to achieve an inner peace of mind. The motorcycle is primarily a mental phenomenon." -- Robert M. Pirsig .
About the Author
Robert M. Pirsig was born in Minneapolis. He studied chemistry, philosophy, and journalism at the University of Minnesota and attended Benares Hindu University in India, where he studied Oriental philosophy.
Michael Kramer has narrated over 100 works for many bestselling authors. He has received Audiofile magazine's Earphones Award for the Kent Family series by John Jakes and for Alan Fulsom's The Day After Tomorrow. He has also read for Robert Jordan's epic Wheel of Time fantasy-adventure series. His work includes recording books for the Library of Congress's Talking Books program for the blind and physically handicapped.
Michael also works as an actor in the Washington, D.C. area, where he lives with his wife, Jennifer Mendenhall, and their two children. He has appeared as Lord Rivers in Richard III at The Shakespeare Theatre, Howie/Merlin in The Kennedy Center's production of The Light of Excalibur, Sam Riggs and Frederick Savage in Woody Allen's Central Park West/Riverside Drive, and Dr. Qari Shah in Tony Kushner's Homebody/Kabul at Theatre J.
You may also be interested in
Look for Similar Items by Category