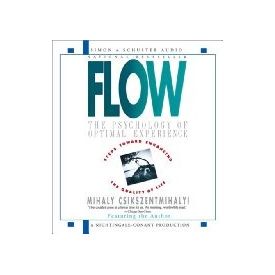 Flow: The Psychology Of Optimal Experience[ Abridged, Audiobook] [ Audio CD] Mihaly Csikszentmihalyi (Author, Reader)
Flow: The Psychology Of Optimal Experience[ Abridged, Audiobook] [ Audio CD] Mihaly Csikszentmihalyi (Author, Reader)
INR
5098
In Stock
1044.0
In Stock
Ships in 3 - 5 Days
Warranty : 0
Description
Flow: The Psychology Of Optimal Experience [Abridged, Audiobook][Audio CD]
Mihaly Csikszentmihalyi (Author, Reader)

Flow: The Psychology Of Optimal Experience [Abridged, Audiobook][Audio CD]
Mihaly Csikszentmihalyi (Author, Reader)
Book Description
SUCCESS CAN BE YOURS WITH
MIHALY CSIKSZENTMIHALYI'S FLOW
The world's foremost producer of personal development and motivational audio programs gives you the tools to unleash the secret of peak performance.
Remember the last time that you were so focused, so motivated that you felt at the absolute top of your form -- alert, energized and free of self-consciousness? Chances are you were experiencing flow -- an almost euphoric state of concentration and complete involvement.
Now, esteemed psychologist Mihaly Csikszentmihalyi reveals how you can achieve this state of mind at will -- and turn everyday experience into a moment by moment opportunity for joy and self-fulfillment. Drawing on over 30 years of breakthrough research into what makes people satisfied, he explains the key elements of the flow experience, including how to:
· Use flow to release yourself from anxiety and boredom
· Redirect your energy and take control
· Set clear goals
· Harmonize all the elements of your life
About the Author
Mihaly Csikszentmihalyi is a professor of human development and education at the University of Chicago. He is the author of several books, Beyond Boredom and Anxiety, Talented Teenagers, The Evolving Self and Flow, on which this audio experience has captured the attention of psychologists, sociologists, anthropologists and corporations the world over. His research is being used by educators, business executives and cultural institutions because his findings have much to offer anyone interested in improving his understanding of how people can perform optimally in every area of life.
Product Details
· Audio CD
· Publisher: Simon & Schuster Audio/Nightingale-Conant;
· Language: English
· ISBN-10: 0743525043
· ISBN-13: 978-0743525046
· Product Dimensions: 1.5x 13 x 14 cms
· Shipping Weight: 205 gms
You may also be interested in