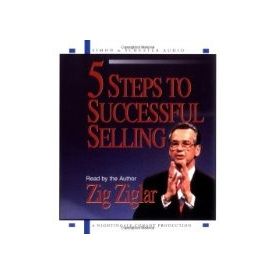 5 Steps To Successful Selling[ Abridged, Audiobook, CD] [ Audio CD] Zig Ziglar (Author, Reader)
5 Steps To Successful Selling[ Abridged, Audiobook, CD] [ Audio CD] Zig Ziglar (Author, Reader)
INR
2085
In Stock
600.0
In Stock
Ships in 3 - 5 Days
Warranty : 0
Description
5 Steps To Successful Selling [Abridged, Audiobook, CD][Audio CD]
Zig Ziglar (Author, Reader)

5 Steps To Successful Selling
[Abridged, Audiobook, CD]
[Audio CD]
Zig Ziglar (Author, Reader)
Book Description
SALES SUCCESS CAN BE YOURS WITH ZIB ZIGLAR'S 5 STEPS TO SUCCESSFUL SELLING
GREAT SALESPEOPLE ARE MADE, NOT BORN
You've heard about "natural-born salespeople" -- those super salespeople who seem to perform intuitively and succeed effortlessly. In 5 Steps to Successful Selling, Zig Ziglar shows you that those success stories result from study and observation rather than inborn talent. They are the result of mastering the art of selling. Now you can master those techniques and perfect your own selling skills -- skills that will take you from being a good salesperson to being the best. A super slalesman himself, Zig Ziglar draws on his many years of experience to define and explain the keys to seccessful selling:
· Prospecting: identifying who can and will buy
· Presenting: knowing the product and showing it effecitvely
· Closing: winning the sale
· Follow-up: maintaining customer contact
· Positive self-image: the foundation of sucsess in selling
After leraning the 5 Steps to Successful Selling -- whether you are a beginner or a seasoned veteran -- you can't help but come away a better salesperson.
Product Details
· Audio CD
· Publisher: Simon & Schuster Audio/Nightingale-Conant; Abridged edition
· Language: English
· ISBN-10: 0743520718
· ISBN-13: 978-0743520713
· Product Dimensions: 1.5 x 13 x 14 cms
· Shipping Weight: 100 gms
Biography
Zig Ziglar is a motivational teacher and trainer who has traveled the world over, delivering his messages of humor, hope, and encouragement. As a talented author and speaker, his international appeal has transcended every color, culture, and career. Recognized by his peers as the quintessential motivational genius of our times, Zig Ziglar's unique delivery style and powerful messages have earned him many honors, and today he is considered one of the most versatile authorities on the science of human potential. Ten of his twenty-eight books have been on the best-seller lists, and his titles have been translated into more than thirty-eight languages and dialects. He is a committed family man, a dedicated patriot, and an active church member. Zig lives in Plano, Texas, with his wife, Jean.
About the Author
Zig Ziglar has motivated the sales forces of multi-national corporations, as well as the thousands of individuals who have attended his seminars and read his books. He is the president of the Zig Ziglar Corporation and the author of the bestsellers Secrets of Closing the Sale, Success and the Self-Image, 5 Steps to Successful Selling, How to be a Winner, and How to Get What You Want.
You may also be interested in