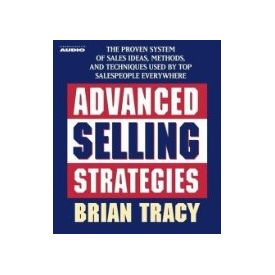 Advanced Selling Strategies: The Proven System Practiced by Top Salespeople[ Abridged, Audiobook] [ Audio CD]
Advanced Selling Strategies: The Proven System Practiced by Top Salespeople[ Abridged, Audiobook] [ Audio CD]
INR
2625
In Stock
750.0
In Stock
Ships in 3 - 5 Days
Warranty : 0
Description
Advanced Selling Strategies: The Proven System Practiced by Top Salespeople [Abridged, Audiobook][Audio CD]
Brian Tracy (Author, Reader)

Advanced Selling Strategies: The Proven System Practiced by Top Salespeople [Abridged, Audiobook][Audio CD]
Brian Tracy (Author, Reader)
Book Description
GAIN THE EDGE YOU NEED!
Strategy, tactics, and mental preparedness separate superior salespeople from the average -- and with technological advances leveling the competition, the selling edge is more important than ever. Drawing on his own successful sales career, and on his extensive experience as a sales consultant and seminar leader, Brian Tracy has developed the most comprehensive and effective approach to selling ever created.
Advanced Selling Strategies provides you with the techniques and tools used by top sales people in every industry -- methods that net immediate and spectacular results. This audiobook explains how to:
• Develop the self-image to give you the edge in every sales situation
• Concentrate on the customer's emotional factors to ensure better sales results
• Identify your customer's most pressing concerns and position your product or service to fill those needs.
About the Author
Brian Tracy is one of America's top sales trainers and consultants. The chairman of Brian Tracy International, he has taught his hugely successful sales techniques to more than one million sales professionals at seminars worldwide. Prior to founding Brian Tracy International, he was the chief operating officer of a development company with $265 million in assets and $75 million in annual sales. He has had successful careeers in sales and marketing, investing, real estate development and syndication, importing, distribution, and management consulting. He is also the author-narrator of many best-selling audiocassette programs on sales and personal achievement, and is the author of the book Maximum Achievement. He lives in San Diego, California, with his wife and four children.
Product Details
· Audio CD
· Publisher: Simon & Schuster Audio; Abridged edition
· Language: English
· ISBN-10: 0743537270
· ISBN-13: 978-0743537278
· Product Dimensions: 14 x 14 x 1.5 cms
· Shipping Weight: 115 gms.
You may also be interested in