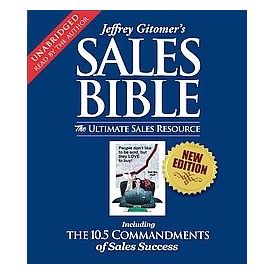 The Sales Bible: The Ultimate Sales Resource[ Audiobook, Unabridged] [ Audio CD] Jeffrey Gitomer (Author, Reader)
The Sales Bible: The Ultimate Sales Resource[ Audiobook, Unabridged] [ Audio CD] Jeffrey Gitomer (Author, Reader)
INR
2680
In Stock
1275.0
In Stock
Ships in 3 - 5 Days
Warranty : 0
Description
The Sales Bible: The Ultimate Sales Resource [Audiobook, Unabridged][Audio CD]
Jeffrey Gitomer (Author, Reader)

The Sales Bible: The Ultimate Sales Resource
[Audiobook, Unabridged]
[Audio CD]
Jeffrey Gitomer (Author, Reader)
Book Description
Jeffrey Gitomer's bestselling work in which he shares his tips on how to be a successful salesperson has a new edition and is now available on audio. He provides motivational advice and practical techniques for initiating, maintaining, and closing a sales presentation. Written in a breezy manner with short, easy-to-remember suggestions, this audio will be popular with persons just getting started in this field or those needing an inspirational pep talk. In an area where there are literally dozens of works already available, The Sales Bible will prove helpful to anyone who listens to it.
Jeffery Gitomer's Sales Bible has been completely revised and redesigned to resemble his distinctive bestselling Little Book series, helping the millions of fans he has won since its publication connect it to this blockbuster series, and assuring a major new life for this category-defining classic.
Product Details
· Audio CD
· Publisher: Simon & Schuster Audio; Unabridged edition
· Language: English
· ISBN-10: 0743572661
· ISBN-13: 978-0743572668
· Product Dimensions: 16x 13 x 3 cms
· Shipping Weight: 230 gms
Biography
I remember my mother chasing my car as I backed out of the driveway to register on my first day of college: "Take pre-med!" she screamed, "You can always switch!" But I wanted to be a businessman, like my dad.
He was the consummate entrepreneur. Growing up, I used to sneak downstairs and listen in on his Thursday night pinochle game. Arguments and laughs about business and life. It proved to be my inspiration for my life's pursuits. My pal, Duke Dalton said, "You know what I hate about your old man? He's never wrong." I miss my folks, and I'm grateful to them for their wisdom - the stuff they accused me of never listening to for 30+ years. If your parents are alive, call them right now and tell them you love them.
In college, I played Scrabble every day with my best friend, Michael Toll. He usually won. It taught me about words and how to use them. Michael also provided me with the challenge of winning at games, both sports and intellectual. He'll tell you he was better than me at everything. I feel the same about him. That was the fun.
I spent a year in Europe and came to the realization that I knew very little compared to what there was to know, which is funny, because I left for Europe knowing everything.
I raised a family. My three beautiful daughters taught me patience. They also gave me the courage and inspiration to achieve in the face of failure. Girls, I love you.
And I became a salesman. My first goal was to be the best salesman in the world. I'm still on that journey, every day. In the pursuit of that goal I surprised myself by becoming a columnist, an author, a speaker, a consultant, and a sales trainer. I used to hate flying. Now I spend about a quarter of my life in an airplane. But I really don't mind, because it gives me the precious opportunity to share my sales knowledge and my secrets with a worldwide audience. What could be better?
My name is Jeffrey Gitomer. I'm a salesman. I'm a dad. I'm a college dropout.
My objective in life is to help others, establish long-term relationships, and have fun - every day. When you love your work like I do, every day is the same. It's a holiday.
About the Author
Jeffrey Gitomer is the author of numerous business bestsellers, including The Little Red Book of Selling. Worldwide, his books have sold more than a million copies. He gives more than 100 presentations a year, serving customers such as Coca-Cola, Cingular, Wells Fargo Bank, IBM, and Mercedes Benz. He lives in Charlotte, NC. For more information, visit www.gitomer.com or email salesman@gitomer.com.
You may also be interested in