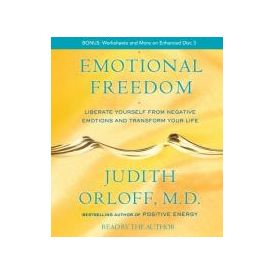 Emotional Freedom[ Abridged, Audiobook] [ Audio CD] Judith Orloff (Author) , Judith Orloff M. D. (Reader)
Emotional Freedom[ Abridged, Audiobook] [ Audio CD] Judith Orloff (Author) , Judith Orloff M. D. (Reader)
INR
2564
In Stock
730.0
In Stock
Ships in 3 - 5 Days
Warranty : 0
Description
Emotional Freedom [Abridged, Audiobook][Audio CD]
Judith Orloff (Author), Judith Orloff M.D. (Reader)

Emotional Freedom
[Abridged, Audiobook]
[Audio CD]
Judith Orloff (Author), Judith Orloff M.D. (Reader)
Book Description
Picture yourself trapped in a traffic jam feeling utterly calm. Imagine being unflappable and relaxed when your supervisor loses her temper. What if you were peaceful instead of anxious? What if your life were filled with nurturing relationships and a warm sense of belonging? This is what it feels like when you've achieved emotional freedom.
National bestselling author Dr. Judith Orloff invites you to take a remarkable journey, one that leads to happiness and serenity, and a place where you can gain mastery over the negativity that pervades daily life. No matter how stressed you currently feel, the time for positive change is now. You possess the ability to liberate yourself from depression, anger, and fear.
Synthesizing neuroscience, intuitive medicine, psychology, and subtle energy techniques, Dr. Orloff maps the elegant relationships between our minds, bodies, spirits, and environments. With humor and compassion, she shows you how to identify the most powerful negative emotions and how to transform them into hope, kindness, and courage. Compelling patient case studies and stories from her online community, her workshop
participants, and her own private life illustrate the simple, easy-to-follow action steps that you can take to cope with emotional vampires, disappointments, and rejection.
Emotional Freedom is a road map for those who are stressed out, discouraged, or overwhelmed as well as for those who are in a good emotional place but want to feel even better. As Dr. Orloff shows, each day presents opportunities for us to be heroes in our own lives: to turn away from negativity, react constructively, and seize command of any situation. Complete emotional freedom is within your grasp.


Product Details
· Audio CD
· Publisher: Random House Audio; Abridged edition
· Language: English
· ISBN-10: 0739357948
· ISBN-13: 978-0739357941
· Product Dimensions: 13 x 1.5x 15 cms
· Shipping Weight: 115 gms
Biography
"Dr. Orloff voices the message that intuition works as a potent therapeutic force that can help us lead smarter, saner lives. She is a serene maverick." --USA Today
Transforming the face of psychiatry, Dr. Judith Orloff asserts that we are keepers of an innate intuitive intelligence so perceptive that it can tell us how to heal -- and prevent -- illness. Yet intuition and spirituality are the very aspects of our wisdom usually disenfranchised from traditional health care.

Dr. Orloff advocates "a democracy of healing," wherein every aspect of our being is granted a vote in the search for total health. It is our birthright, both as health-care givers and health-care recipients, to reclaim our intuition to build energy and well-being. In response to her work, The Los Angeles Times calls Dr. Orloff "a prominent energy-based healer."
Dr. Orloff is accomplishing for psychiatry what physicians like Dean Ornish and Mehmet Oz have done for mainstream medicine -- she is proving that the links between physical, emotional, and spiritual health can't be ignored. Dr. Orloff has spoken at medical schools, hospitals, the American Psychiatric Association, Fortune Magazine's Most Powerful Women Summit, and alternative and traditional health forums -- venues where she presents practical intuitive tools to doctors, patients, and everyday people.
As a board-certified psychiatrist and assistant professor of psychiatry at UCLA, Dr. Orloff exhibits great courage in drawing upon her own intuitive abilities, evident to her since childhood. Her struggles acknowledging and then finally embracing her gift of heightened intuition are chronicled in "Second Sight" (Warner Books). Her second book, "Dr. Judith Orloff's Guide to Intuitive Healing" (Three Rivers Press) shows how breakthroughs in healing our body, emotions, and sexuality are accomplished by listening to intuition. Her latest book "Positive Energy" (Harmony Books) completes a trilogy of books around awakening intuition and subtle energy. "Positive Energy," which has been translated into 23 languages, takes a probing look at the epidemic of exhaustion in America and how we can reverse it using specific strategies to build energy and combat draining people.
Dr. Orloff begins talks by creating a bond of warmth, trust and intimacy with participants, within which they can hear and explore her ideas. Her sincerity, humor, and joy bring everyone in the audience with her -- leaving everyone certain of their own intuitive abilities, as well as Dr. Orloff's contributions to a radically new kind of medicine.
About the Author
Judith Orloff, M.D., is a psychiatrist in private practice and an assistant clinical professor of psychiatry at UCLA. She is the author of the bestsellers Positive Energy, Dr. Judith Orloff's Guide to Intuitive Healing, and Second Sight.
You may also be interested in
Look for Similar Items by Category