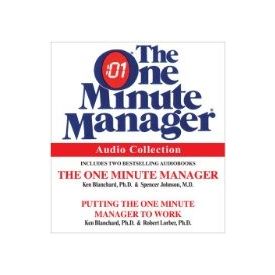 The One Minute Manager Audio Collection[ Abridged, Audiobook, CD] [ Audio CD] Kenneth Blanchard (Author, Reader) , Spencer Johnson (Author, Reader) , Robert M. D Lorber (Author, Reader)
The One Minute Manager Audio Collection[ Abridged, Audiobook, CD] [ Audio CD] Kenneth Blanchard (Author, Reader) , Spencer Johnson (Author, Reader) , Robert M. D Lorber (Author, Reader)
INR
2670
In Stock
990.0
In Stock
Ships in 3 - 5 Days
Warranty : 0
Description
The One Minute Manager Audio Collection [Abridged, Audiobook, CD][Audio CD]
Kenneth Blanchard (Author, Reader), Spencer Johnson (Author, Reader), Robert M.D Lorber (Author, Reader)

The One Minute Manager Audio Collection
[Abridged, Audiobook, CD]
[Audio CD]
Kenneth Blanchard (Author, Reader), Spencer Johnson (Author, Reader), Robert M.D Lorber (Author, Reader)
Book Description
Two bestselling business audiobooks are now together at a great low price!
THE ONE MINUTE MANAGER
By Ken Blanchard, Ph.D. and Spencer Johnson, M.D.
With more than 13 million copies sold worldwide, The One Minute Manager ranks as one of the most successful management titles ever published. Ken Blanchard and Spencer Johnson teach you the strategies of one-minute management to save time and increase your productivity whether it is in your business, your home, or even managing your children.
And...
PUTTING THE ONE MINUTE MANAGER TO WORK
By Ken Blanchard, Ph.D. and Robert Lorber, Ph.D.
The bestselling team of Ken Blanchard and Robert Lorber bring you the ever-timely strategies of one-minute management in Putting the One Minute Manager to Work -- an indispensable success tool for any manager striving to get the most from his or her people. This essential follow-up to The One Minute Manager applies the secrets of One Minute Goal Setting, One Minute Praisings and One Minute Reprimands to real-life situations so that you can put them to work in your life immediately!
About the Author
Spencer Johnson, M.D., is one of the world's most respected thinkers and beloved authors.
His eleven international bestselling books include the #1 titles Who Moved My Cheese?® An A-Mazing Way to Deal with Change, the most widely read book on change, and The One Minute Manager®, the world's most popular management method for over two decades, coauthored with Kenneth Blanchard.
Dr. Johnson is often referred to as "the best there is at taking complex subjects and presenting simple solutions that work."
He recieved a B.A. degree in Psychology from the University of Southern California, an M.D. degree from the Royal College of Surgeons, and performed medical clerkships at the Mayo Clinic and the Harvard Medical School.
He has served as Leadership Fellow at the Harvard Business School, and is currently Advisor to the Center For Public Leadership at Harvard's John F. Kennedy School of Government.
His work has captured the attention of major media, including the Associated Press, the BBC, CNN, Fortune, the New York Times, the Today show, Time magazine, USA Today, and United Press International.
More than forty-six million copies of Spencer Johnson's books are in print worldwide in more than forty-seven languages.
Product Details
· Audio CD
· Publisher: Simon & Schuster Audio/Nightingale-Conant; Abridged edition
· Language: English
· ISBN-10: 074359651X
· ISBN-13: 978-0743596510
· Product Dimensions: 2.5 x 10 x 16 cms
· Shipping Weight: 125 gms
Biography
Few people have influenced the day-to-day management of people and companies more than Ken Blanchard. A prominent, sought-after author, speaker, and business consultant, Dr. Blanchard is universally characterized by his friends, colleagues, and clients as one of the most insightful, powerful, and compassionate individuals in business today. Ken is one of the most influential leadership experts in the world and is respected for his years of groundbreaking work in the fields of leadership and management.
Dr. Ken Blanchard is the cofounder and Chief Spiritual Officer of The Ken Blanchard Companies, an international management training and consulting firm that he and his wife, Margie Blanchard, began in 1979 in San Diego, California. In addition to being a renowned speaker and consultant, Ken also spends time as a visiting lecturer at his alma mater, Cornell University, where he is a trustee emeritus of the Board of Trustees.
Ken has received many awards and honors for his contributions in the fields of management, leadership, and speaking. The National Speakers Association awarded him its highest honor, the "Council of Peers Award of Excellence." He was inducted into the HRD Hall of Fame by Training magazine and Lakewood Conferences, and he received the Golden Gavel Award from Toastmasters International. Ken also received The Thought Leadership Award for continued support of work-related learning and performance by ISA--The Association of Learning Providers. Ken has been inducted into Amazon's Hall of Fame as one of the top 25 best-selling authors of all time. The business school at Grand Canyon University bears his name. In addition, Ken teaches students in the Master of Science in Executive Leadership Program at the University of San Diego.
Born in New Jersey and raised in New York, Ken received a master's degree from Colgate University, and a bachelor's and PhD from Cornell University. An avid golfer, Ken belongs to the Loch Lomond Golf Club in Scotland.
You may also be interested in
Look for Similar Items by Category