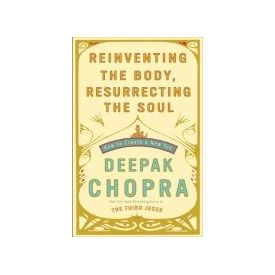 Reinventing the Body, Resurrecting the Soul: How to Create a New You[ Audiobook, Unabridged] [ Audio CD] Deepak Chopra (Author, Reader)
Reinventing the Body, Resurrecting the Soul: How to Create a New You[ Audiobook, Unabridged] [ Audio CD] Deepak Chopra (Author, Reader)
INR
2599
In Stock
1170.0
In Stock
Ships in 3 - 5 Days
Warranty : 0
Description
Reinventing the Body, Resurrecting the Soul: How to Create a New You [Audiobook, Unabridged][Audio CD]
Deepak Chopra (Author, Reader)

Reinventing the Body, Resurrecting the Soul: How to Create a New You [Audiobook, Unabridged][Audio CD]
Deepak Chopra (Author, Reader)
Book Description
Fifteen years after his #1 New York Times bestseller, Ageless Body, Timeless Mind, Deepak Chopra revisits "the forgotten miracle"–the body's infinite capacity for change and renewal. You cannot take advantage of this miracle, Chopra says, unless you are willing to completely reinvent your body, transforming it from a material object to a dynamic, flowing process. "Your physical body is a fiction," Chopra contends. Every cell is made up of two invisible ingredients: awareness and energy.
Using Chopra's ten steps to wholeness, you can harness those basic elements to change the distorted energy patterns that are the root cause of aging, infirmity, and disease.
Transformation can't stop with the body, however; it must involve the soul. The soul–seemingly invisible, aloof, and apart from the material world–actually creates the body. Only by going to the level of the soul will you access your full potential, bringing more intelligence, creativity, and awareness into every aspect of your life.
Reinventing the Body, Resurrecting the Soul delivers ten breakthroughs–five for the body, five for the soul–that lead to self-transformation. In clear, accessible terms, Chopra shows us how to commit ourselves to deeper awareness, focus on relationships instead of consumption, embrace every day as a new world, and transcend the obstacles that afflict body and mind.
Deepak Chopra has inspired millions with his profound teachings over the years. His bestselling books have explored the mind/body connection and the power of spirit. With his latest book, he invites you to experience with him the miracles that unfold when we connect the body directly to the awesome mysteries that give life meaning–directly to the soul. When you have completed this journey, after reinventing your body and resurrecting your soul, the ecstasy of true wholeness becomes possible for the very first time.
Product Details
· Audio CD
· Publisher: Random House Audio; 1 Una edition (October 13, 2009)
· Language: English
· ISBN-10: 0739381989
· ISBN-13: 978-0739381984
· Product Dimensions: 13 x 3 x 16 cms
Biography
Deepak Chopra, M.D.
Founder of The Chopra Foundation
Senior Scientist, The Gallup Organization
www.deepakchopra.com
www.facebook.com/DeepakChopraCommunity
www.twitter.com/deepakchopra

As a global leader and pioneer in the field of mind-body medicine, Chopra transforms the way the world views physical, mental, emotional, spiritual, and social wellness. Known as a prolific author of over sixty books with eighteen New York Times best sellers in both the fiction and non fiction categories.Deepak Chopra has written over twenty books, which have been translated into thirty-five languages. Chopra's more than thirty audio and videotape productions have garnered critical acclaim. Chopra currently serves as the director for educational programs at The Chopra Center for Well Being in La Jolla California.